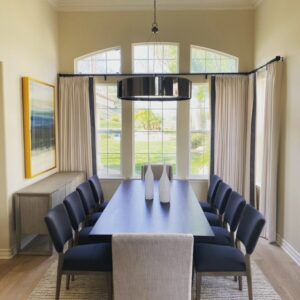 Interiors by Joi offers a comprehensive range of services to cater to every aspect of interior design. With a focus on creating personalized and stunning spaces, the firm ensures that clients' unique visions are transformed into reality. Some of the key services provided by Interiors by Joi include:
Interior Design Consultations: Joi and her team provide in-depth consultations to understand clients' preferences, lifestyle, and design goals. These consultations serve as the foundation for creating tailored design plans that align with clients' visions and functional requirements.
New Construction & Kitchen and Bathroom Remodels: Interiors by Joi also specializes in transforming new builds into captivating spaces. With a keen eye for aesthetics and functionality, we bring life to bare walls, creating unique and inviting interiors. From the initial conceptualization to the final touches, we meticulously craft every detail. When it comes to kitchen and bathroom remodels, we excel at maximizing space and optimizing layouts. We carefully select materials, colors, and fixtures that harmonize with our client's vision while ensuring practicality. With our expertise, we turn ordinary rooms into stunning and functional kitchens and bathrooms, enhancing the overall appeal and value of the property. Our creativity and knowledge create homes that inspire and delight.
Custom Furniture and Upholstery: Interiors by Joi specializes in designing and crafting custom furniture pieces that are unique to each client's style and needs. From luxurious sofas and chairs to elegant dining tables and bespoke cabinetry, the firm ensures that every piece is meticulously designed and expertly crafted. Custom upholstery services further enhance the furniture, allowing clients to select fabrics, textures, and finishes that complement their design scheme.
Custom Media Cabinets: With the advancement of technology and the increasing importance of media systems in modern homes, Interiors by Joi offers custom media cabinet solutions. These cabinets are designed to seamlessly integrate entertainment systems while maintaining the overall aesthetic of the space. Whether it's concealing wires, accommodating speakers, or optimizing storage for media components, Joi's team creates functional and stylish media cabinets.
Furniture Space Planning: Space planning is a crucial aspect of interior design, and Interiors by Joi excels in optimizing room layouts to maximize functionality and flow. Through careful consideration of furniture placement, traffic patterns, and spatial relationships, the firm ensures that each room is well-balanced and harmonious. The result is a space that not only looks visually appealing but also serves its intended purpose effectively.
Wallpaper and Window Treatments: Interiors by Joi offers a wide selection of wallpaper and window treatments to enhance the overall ambiance of a space. Whether clients prefer bold patterns, textured finishes, or subtle designs, the firm assists in selecting and installing wallpaper that complements the desired aesthetic. Window treatments, including drapes, blinds, and shades, are also carefully chosen to add privacy, control natural light, and elevate the overall design scheme.
Color Consultations: Choosing the right colors is pivotal in setting the mood and tone of a space. Interiors by Joi provides expert color consultations, helping clients select appropriate color palettes that reflect their personal style and create the desired atmosphere. Whether it's selecting paint colors for walls, coordinating hues for furniture and decor, or creating cohesive color schemes throughout the home, Joi's team ensures that colors harmonize and enhance the overall design concept.
Lighting Solutions: Lighting plays a vital role in enhancing the ambiance, functionality, and aesthetics of a space. Interiors by Joi offers innovative lighting solutions, including selection and placement of fixtures, accent lighting for highlighting artwork or architectural features, and incorporating natural light sources to create a bright and inviting atmosphere. By carefully considering the interplay of natural and artificial light, Joi ensures that each room is beautifully illuminated.
With these extensive services, Interiors by Joi provides clients with a holistic approach to interior design. From conceptualization to execution, the firm's expertise in consultations, custom furniture, space planning, wallpaper, window treatments, color consultations, and lighting solutions ensures that each project is a seamless and transformative experience.